Today in Movie Culture: The Practical Effects of 'Child's Play,' 'Toy Story' Franchise Recap and More
Mon, 17 Jun 2019 21:14:22 GMT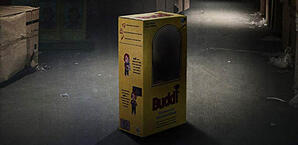 Here are a bunch of little bites to satisfy your hunger for movie culture: VFX Breakdown of the Day: Chucky returns this weekend in a new form as the Child's Play remake hits theaters. This time, the killer doll is voiced by Mark Hamill and is more of a robot action figure portrayed with practical animatronic effects. Here's a behind the scenes look at the making of the new horror movie from Orion Pictures that shows how they brought the new Chucky to life:...
Get Creative With 'Toy Story 4' Activity Sheets
Mon, 17 Jun 2019 17:00:00 GMT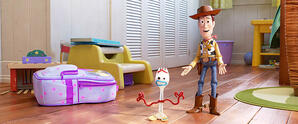 An exciting new adventure is launched in Toy Story 4 when Woody (voiced by Tom Hanks) and the gang accompany young Bonnie on her family's fabulous cross-country road trip. They must take an unexpected detour, however, after Bonnie's beloved new "toy" Forky (voiced by Tony Hale) heads out on his own. Woody also has an unexpected reunion with the long-lost Bo Peep (voiced by Annie Potts), among many other challenges and surprises. Young people of all ages can enjoy a another...
Watch 'Toy Story 4' Video: The World of Woody and Buzz
Mon, 17 Jun 2019 17:00:00 GMT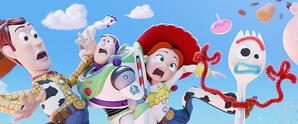 Those treasured icons of vim and vigor, Woody (voiced by Tom Hanks) and Buzz Lightyear (voiced by Tim Allen), have settled into relaxed and comfortable surroundings in Toy Story 4, where they live along with other toys under the protective care of the delightful Bonnie. The young girl has transformed the bashful utensil Forky (voiced by Tony Hale) into her most beloved toy, so when Forky goes missing, it's up to Woody, Buzz and their friends to reunite Bonnie and Forky. The story behind...
Next 3 Alien-Future Movies: 'Ad Astra,' 'Terminator: Dark Fate,' 'Gemini Man'
Mon, 17 Jun 2019 16:53:02 GMT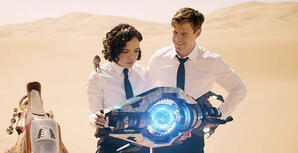 Chris Hemsworth and Tessa Thompson star in Men in Black: International as secret agents charged with protecting the planet from harmful alien creatures. As with its franchise predecessors, the action-adventure takes a boisterous, comic approach to its science-fiction premise. Now that Men in Black: International has launched into theaters, what more strange, alternative futures may be lurking on the horizon? Here are three upcoming sci-fi adventures that promise to dazzle us. ...
Today in Movie Culture: 'Men in Black: International' Promotional Prank, 'Late Night' Director Commentary and More
Fri, 14 Jun 2019 20:25:24 GMT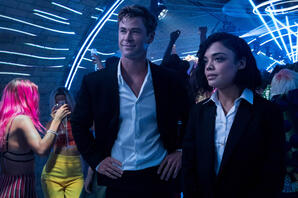 Here are a bunch of little bites to satisfy your hunger for movie culture: Promotional Prank of the Day: To help promote the new Men in Black sequel, Men in Black: International, Sony partnered with Lexus for an effects-driven prank. Watch as hapless potential car buyers meet a Lexus dealer revealed to be an alien operating a human suit similar to the creatures seen in the hit sci-fi movie franchise: Cosplay of the Day: Don't forget folks, when a...
The Week in Movie News: Blumhouse to Remake 'Black Christmas,' First 'Doctor Sleep' Trailer and More
Fri, 14 Jun 2019 20:15:32 GMT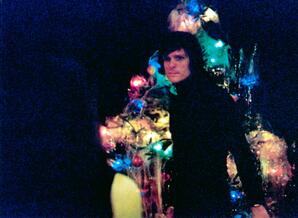 Need a quick recap of the past week in movie news? Here are the highlights: BIG NEWS Blumhouse is remaking Black Christmas: The 1974 holiday horror classic Black Christmas is being remade again, this time from Blumhouse Productions and Universal Pictures with Imogen Poots starring and Sophia Takal (Always Shine) directing. The movie is set to release on Friday the 13th this December. Kevin Hart to star in Scrooged: Speaking of classic Christmas movies...
Exclusive 'The Dead Don't Die' Clip: I'm Thinking Zombies -- What?!
Fri, 14 Jun 2019 17:00:00 GMT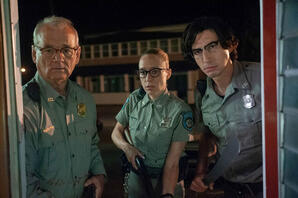 When strange, deadly things begin happening in the quiet, peaceful community of Centerville in Jim Jarmusch's horror-comedy The Dead Don't Die, local law enforcement officials are flummoxed, to say the least. Sheriff Cliff Robertson (Bill Murray) and his deputies, including the loyal Ronnie Peterson (Adam Driver), can clearly see that abnormal, disturbing things are happening - things they could never have imagined before, especially in their quiet little town. So, in our exclusive...
Frightening Exclusive 'Annabelle Comes Home' Clip: Beacon for Other Spirits
Mon, 10 Jun 2019 19:00:00 GMT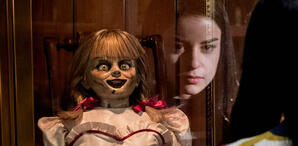 Real-life demonologists Ed and Lorraine Warren, portrayed by Patrick Wilson and Vera Farmiga in Annabelle Comes Home (tickets now available), know evil when they see it or when they feels its presence. But they never expected to find such dangerous evil in the back seat of their own car. In our exclusive clip, Ed and Lorraine have barely left a cemetery when Ed quickly has one surprising -- and frightening -- encounter after another. Lorraine, unsettled and frightened for her husband as she...
Next 3 Movies With 'Dark Phoenix' Stars James McAvoy, Michael Fassbender and Jennifer Lawrence
Mon, 10 Jun 2019 18:28:05 GMT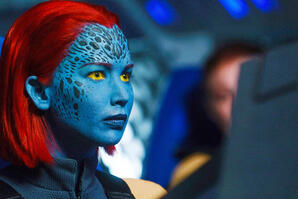 The final installment in the X-Men film franchise to revolve around characters we already know, love and sometimes fear, Dark Phoenix follows the evolution of Jean Grey (Sophie Turner) into one of the most incredibly powerful mutants of all. Transformed by a cosmic force, Jean spirals out of control, tearing her fellow mutants apart. Among other fascinating threads, the film brings individual stories about Professor X (James McAvoy), Magneto (Michael Fassbender) and Raven a.k.a. Mystique...